MagazineBuying Affirmation Jewellery as a Gift
Over the past few decades we've seen fashion collide with politics as slogan tees shouted bold statements to the world. Now it's time to shout (or rather, gently affirm) those bold statements to yourself.
Affirmation jewellery has the power to inspire, but far from being a gimmick or just another fashion trend, it actually promotes mental wellbeing.
As a gift for a loved one, affirmation jewellery can send a meaningful message – it shows that you care and that you've been paying attention.
When you're out of inspiration for birthday, Christmas or anniversary gifts, affirmation jewellery might just be the 'something a little different' that you were seeking. Soul Analyse's collection of hand-designed rings, necklaces, anklets and bracelets come with subtle messages to inspire and reassure.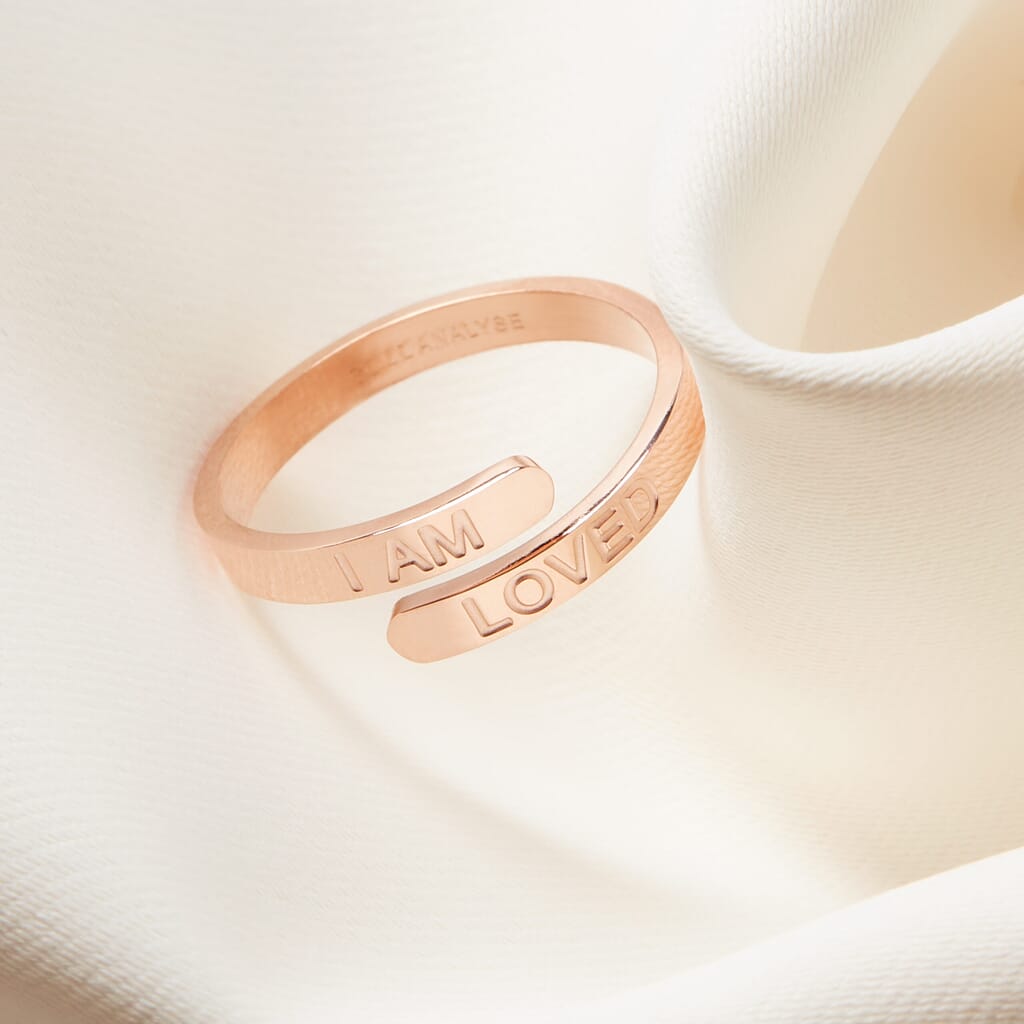 What is affirmation jewellery? And how can it help?
Affirmations are positive mantras recited to oneself to help shift mindset.
Affirmation jewellery then, is jewellery to aid in this positive shift, via inscribed, impactful statements. 
The key to the success of affirmations is in their repetition. The general guidance has been to say affirmations aloud to yourself in the morning and evening.
However, this is just to accommodate our 9-5 Western lifestyles, because in fact, affirming positive statements to yourself is beneficial at any time of day – it's just not always possible or appropriate when you're in the office, the supermarket or in the middle of a packed bus.
But affirmation jewellery acts as a small injection of self belief at the times you need it most. For example, a glance down at the words 'I am strong' on your finger during a nervy job interview could be just the reassurance you need to ace it, and get the job. 
Affirmation jewellery is about taking these positive mantras and using them as powerful reminders for yourself throughout the day.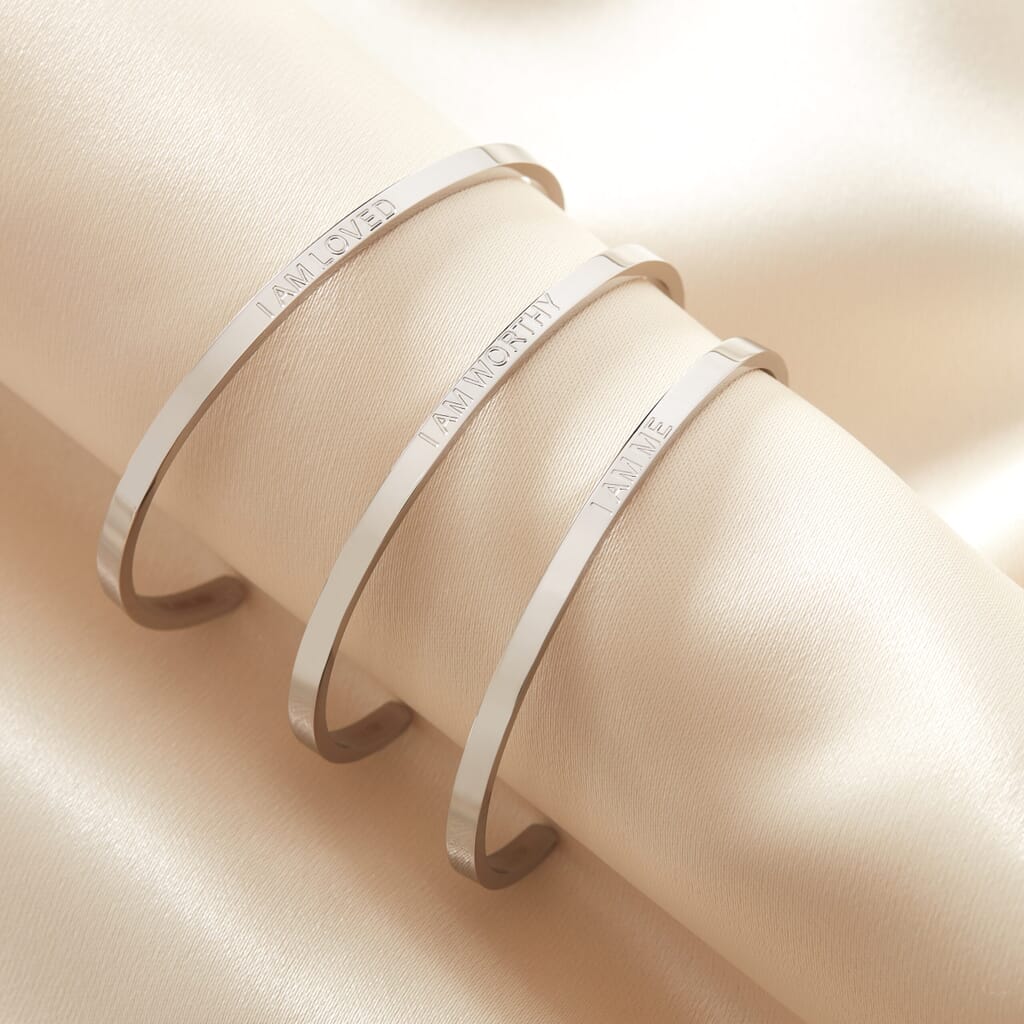 Why buy affirmation jewellery as a gift?
Gifting affirmation jewellery shows thoughtfulness: essentially, that you are invested in the mental wellbeing of the recipient.
The inscribed mantras aren't person specific and can be bought for most, yet at the same time feel profoundly significant and personal.
Receiving a gift that holds meaning for you over something generic is something we all appreciate. Affirmation jewellery, when chosen carefully, can show that you've been listening.
How to find the right affirmation jewellery for loved ones
When buying jewellery as a gift generally, you want to take a few things into account: the person's tastes; their ring size; their style; and their skin tone (typically, dark and olive tones suit gold and pale and pink tones suit silver).
Our collection of affirmation jewellery comes in an array of styles and classic designs that are suitable for most. Furthermore, our rings are all adjustable. 

When buying affirmation jewellery for others, consider the following:
Keep in mind that buying any jewellery, especially affirmation jewellery can be a personal thing. Affirmations pertain to mental health and wellness, which despite the changing times, is still an uncomfortable topic for many. Some people may prefer a simple reminder, such as 'I am loved'.

Think carefully about the person you're buying for and which affirmation will resonate specifically with them and their life. Take care not to make assumptions about what mantras they need in their life if you don't know.

Understand that some affirmations might be triggering for some people. For example, certain words might act as painful reminders. In this case, opt for symbolism jewellery instead, like

our feather ring and necklace set

which signifies wisdom and power. Alternatively, Audrey Hepburn fans might appreciate our

'Nothing is Impossible' necklace

.

Think about the kind of language the recipient uses and if it is similar to any of the inscribed affirmations.

Take note of what kind of jewellery they already wear. If you've never seen them wear rings, opt for a bracelet or necklace instead. Think about their style choices – if they don't do bold fashion, consider subtle jewellery, like

our delicate anklets

. 

Be careful to buy for them and not for you. It's all too easy to get carried away with your own tastes, but imagine if the piece of jewellery would look on, and be appreciated by them too.
Soul Analyse offers affordable affirmation jewellery that serves to inspire. Take a look at our gifts section if shopping for a loved one – you can shop by recipient, occasion or price, simplifying the search for the perfect gift!
---